Fly Fishing Key West
Put yourself in casting range of bonefish, permit, and tarpon, by visiting the pristine flats of Key West, Florida. Whether you are an advanced salt water fly caster, or a beginner, I can help you improve your skills. Learn while we fish. With patience and understanding, I teach all levels of fly casting techniques. Enough back yard casting to a bucket, make a forty foot cast to a tailing permit instead.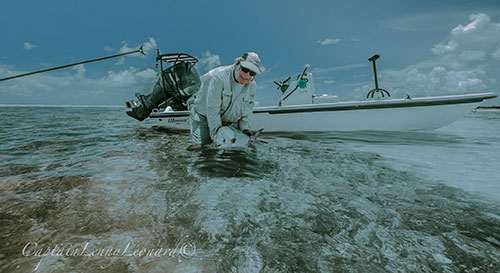 Key West offers some of the most beautiful flats in the world. The size of our bonefish, permit, and tarpon are larger than those found in many other places. The diverse variety of the flats in the Keys leaves little for the imagination.
Fly Rods
I supply my customers with all Sage fly rods, however, you are welcome to bring your own rods. In fact, I would recommend using your favorite fly rod because you are comfortable with it, you know the action and how it loads. Keep in mind our fish will test your rod to its limit. So, if bringing your own rod, make sure it is in good shape.
The standard size rods we use are, from an #8 weight through #13 weight. These rod sizes we use are in direct correlation to the size of the species we will be fishing for.
Fly Line
When fly fishing the flats, I recommend a weight forward floating line or an intermediate sink tip line.
The weight forward floating line has a heavier 25 ft core section shooting head that will aid in loading the rod, and the floating line will stay on the surface keeping the line out of harms way.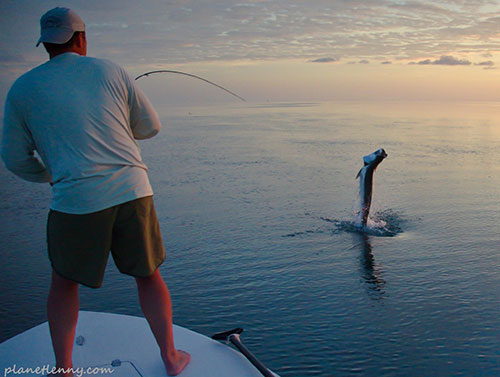 The intermediate sink tip will allow the fly to get down faster in the shallows and works well in the deeper channels where we often find tarpon early in the morning.
Sinking line can be used in deep water fishing, however this is not practical for most flats fishing.
Fly Reels
I supply my customers with Abel fly reels. The most important thing to remember about a fly reel in saltwater fishing is the quality of the drag system and maximum capacity of backing.
Backing is what we use to play the fish - the fly line is just used to load the road an aid in casting. I recommend at least 200 yards of 30 lb. backing on the average fly reel.
Fly reels range from 8/9 weight 9/10 and 11/12 this is based on the average line a particular reel is designed to hold.
Make sure that when the reel is loaded that there is plenty of clearance as to eliminated the fly line from jamming on the reel when the fish runs.
Never compromise backing for fly line. Stick with the reel manufacture's guidelines for that particular reel.
Flies & Leaders
I provide my customers with flies - some hand tied by yours truly. However, you may bring your own if you have one you tied and you're dying to try it.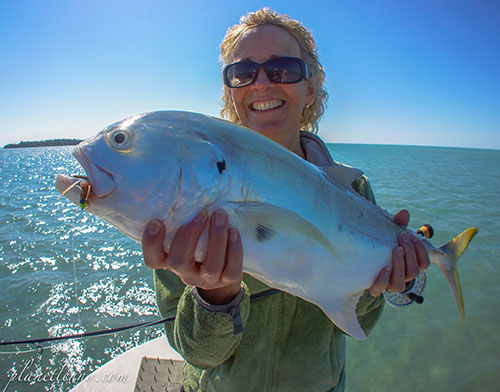 Choose your fly based on the type of fish and the depth of water, and color or bottom contrast and water clarity. Deeper flats and channels may require a fly or crab pattern with lead eyes.
Fluorocarbon Leaders
I provide my customers with fluorocarbon leader systems, at an average length of nine feet. Ranging from 16 lb. to 30 lb. plus, and an additional shock leader tippet section for the tarpon.
Captain Lenny's fly fishing food for thought...
Beginners are always welcome
Practice makes perfect
Load your rod with one line weight more than its design. This allows easier loading of the rod.
Don't compromise length of a cast for accuracy of a cast.
One good shot at a fish is better than two mediocre shots.
Your guide should not be the biggest thing you hook all day...