Tarpon

Megalops Atlanticus
"The Silver King"
Description: Bright silver sides most common, or brownish in tint when in grassy estuaries. These prehistoric fish have large bodies covered with huge scales and large mouths with a heavy bone structure that point upward.
Location: Atlantic Ocean or Gulf of Mexico, shallow water, generally above 70 degrees. Common in the Florida Keys.
Observation: Often seen broaching above the surface of the water. Tarpon have a lung, and can breathe oxygen from above the surface of the water. Subsequently, they can be found in brackish waters. Commonly found in schools or daisy chains, particularly when spawning, during the summer months.
Size: 40 to 100 lbs (100+ not uncommon in the Keys)
Food Source: primarily smaller baitfish, shrimp and crabs
Tarpon Fishing Key West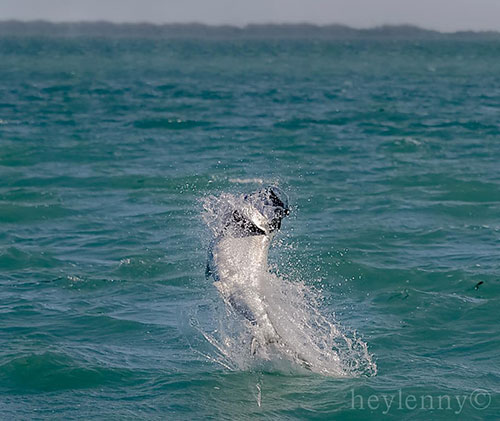 When it comes to sport fishing, this is the ultimate fish and Key West is the ultimate place. These fish are awesome. Producing heart pounding acrobatics and gut wrenching runs, these fish fight back. Sight cast to these monstrous creatures in the shallow gin clear waters off Key West. These fish invade the local flats and the outlining channels in search of food and warm water. Key West is part of a yearly migration path for spawning Tarpon and home for many resident ones. Fish the flats on the edge of the Atlantic's blue water - west of Key West. These flats offer a beautiful mosaic of coral patch reef. Or fish the Gulf of Mexico's backcountry estuaries, sprawling with river and creeks, which divide the grass flats and mangrove islands. Tarpon are often found on warm winter days and a regular visitor to the flats in spring, summer, and fall.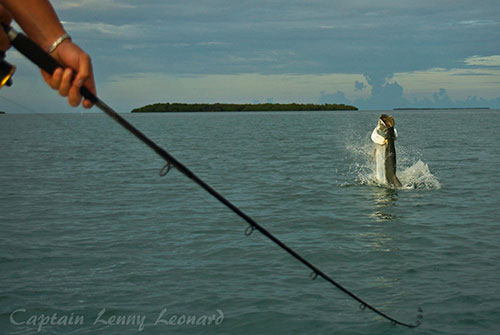 Light Tackle for Tarpon
Cast a live crab to a school of tarpon on a spinning rod. Throw a large plug and watch a tarpon slam it off the surface. All light tackle fishing to be done with 10 or 14 lb. monofilament. A great way to produce the most of your Key West fishing experience.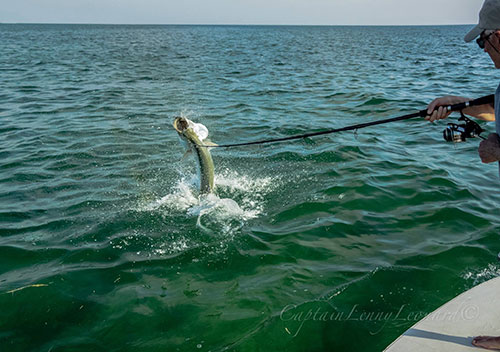 Fly Fishing for Tarpon
The early bird gets the worm and the early angler gets the tarpon. These fish are intense. Tarpon test all the variables, including: the angler, the guide, the gear, and the tarpon. You can expect me to put you in the right spot at the correct tide, to make things happen. I have fly-fished this water for the silver king since I was a kid. Boat position is everything when it comes to presenting a fly to a tarpon. One must think like a tarpon to guide successfully for tarpon. Fishing the Tarpon for years gives one the upper hand on where to look. There is great tarpon fishing and there is great tarpon fishing for fly casters. Not all spots are made for fly casters, however, I have a few ideas on which ones are...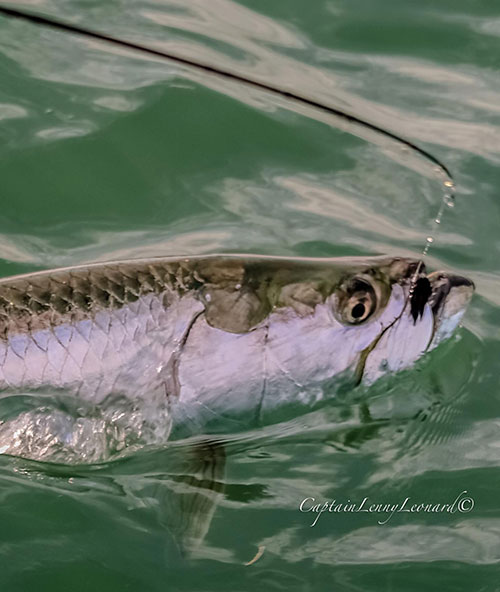 Fly Tackle
Number 10 to 13 weight fly rod and matching reel with lots of backing. Floating weight forward tarpon taper line. Fluorocarbon leader system and shock tippet. We use the double haul casting technique and beginners always welcome.
Fly Patterns
Deceivers, clousers, cockroach, Borski shrimp and large mercants.